Professional French Writing, English to French Translation and SEO services
|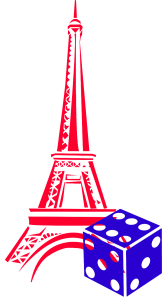 French is the official language of 29 countries, totalling for about 73 million native-speakers. In addition French is a second language for other 338 million people in the world. If you have an English gambling website, it seems natural you want to bring it in front of as many people as possible. My professional French writing and English to French translation service will help you reach this goal.
Get truly localised content to engage your French speaking audience further and eventually obtain more traffic and conversions. Choosing a French native speaker is not an option. Choosing a French native speaker with a deep knowledge of the English language and the gambling sector is not an option either. Only understanding perfectly the original version you can accurately translate it and provide the readers with the same feelings and sensations meant in the English version.
Website localisation is a fundamental step when you want to expand to new markets. To do it well you certainly need original content specifically tailored to the new market, and also need to translate your existing content properly, make it enticing and engaging with a completely new audience in mind. All this must come with a deep understanding of the SEO principles that will rule the ranking of the content in the local Google. This is not an easy task, and only an eclectic professional can provide them all.
Your long search for an experienced French writer or for a translation agency has ended. I have more than 10 years of experience in French SEO writing for the gambling sector and I would be glad to write for you.
Prices start at €12 for 500 words of unique content.
I also provide more focused SEO services in the form of:
1. publishing of text ads on a portfolio of French gambling sites with unique content, unique IP and unique design,
2. creation of French gambling portfolios of websites (blogs, static HTML, …) or private networks,
3. submission to French directories.
As you can see I can help your gambling brand or website in the competitive French market in many ways. If interested, please submit a comment or contact me here including @frenchwriter in the subject line.